APARTMENTS NEAR: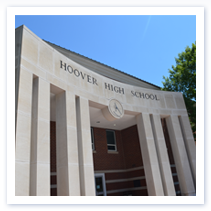 Hoover High School exists to provide a learning environment for academic excellence where students think critically, take responsibility for their actions, are connected to the community, and are challenged to reach their individual potential for success in the future.
Perhaps no other school in the Southeast can lay claim to such a storied past as Hoover High School.  Its history traces its roots to one of the original "Over-the-Mountain" schools – W.A. Berry High School.  Together, Hoover High School and its predacessor have produced countless, outstanding intellects and athletes who have helped shape the world.
Hoover High School's large, dynamic campus serves a student population of approximately 2,900 students.  With personalized, differentiated learning, numerous academy programs and a low student-teacher ratio, the school operates as and has the feel of a much smaller campus.
APARTMENT COMMUNITIES: