APARTMENTS NEAR: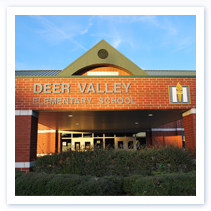 Deer Valley is a K-4 school established in 2001. Currently serving approximately 840 children. Through the program students are given a variety of engaging opportunities to facilitate their love of learning . Teams of teachers work together in professional learning communities to seek strategies to best meet the needs of students and to assure high levels of learning by all.
Deer Valley offers many layers of support staffing including: enrichment teacher, reading coach, math coach,  counselor, school nurse, and more. Offering daily PE classes and scheduled music, art, counseling, health, and library times.
All children can learn.­
Self-esteem is fostered in children through respect, encouragement, and a spirit of community and cooperation.
A school should provide a loving, nurturing, safe environment where learning is celebrated.
A school should help children become independent, confident, self-directed learners and encourage curiosity and risk-taking.
Each student is a valued individual with special talents, abilities, and needs that should be met with a variety of individualized programs that are challenging, engaging, and meaningful.
A school should instill an appreciation and respect for all individuals through character development and good citizenship.
An open line of communication between students, parents, & the school is vital to each child's education.
APARTMENT COMMUNITIES: